From survey data to the finished dashboard in one week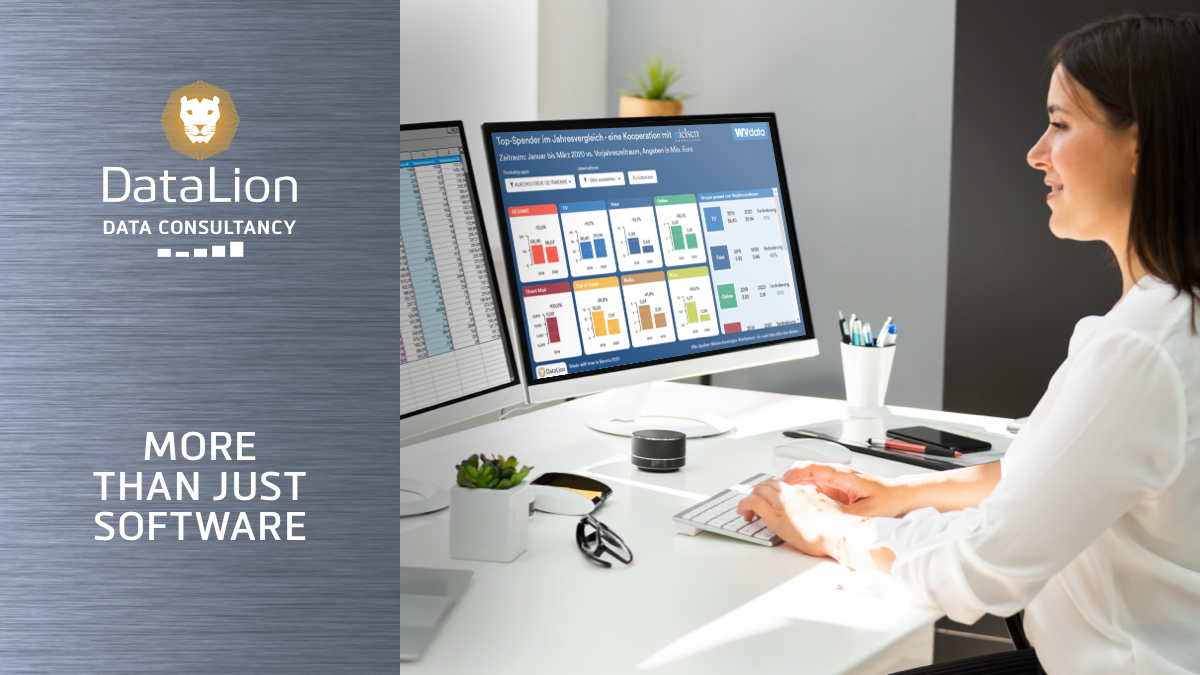 Would you like to set up your market research project as an efficient dashboard solution, you wish to build your quick dashboard but you have a lot to do and no time for implementation? We can help!
Three steps to your ready-to-use dashboard
1. Survey data

You send us your data set, for example as SPSS or Excel, and your CI documents

2. Project setup

We set up your project from the data to the layout

3. Finished dashboard

You can enjoy your finished dashboard and can share it with your audience.
Interested? Contact us now!
This is how you dashboard could look like

Companies that are already using the DataLion dashboard software
The DataLion Quickstart Package in detail
You send us your finalized, ready-to-use labeled data record (SAV and/or CSV, max. 300 columns / 30,000 lines), questionnaire, PPTX master, your CI documents (logo, color scheme), and your specifications for the dashboards ( e.g. Scribbles). We check the suitability of the data set and the feasibility of your specifications within the quick start package. If necessary, you can adapt the data record and the specification.
Our consultants set up the project for you, create a report according to your specifications with up to eight dashboards each with up to ten of our standard chart types, and set up your PowerPoint and Excel exports (DataLion standard exports).
Six to nine working days after receiving the final data set, you have your finished and quick dashboard and can deliver it to the first customers.
You will receive an onboarding into the software or an introduction to your dashboards (max. One hour).
A correction loop: Change requests in the layout (changes to the colors, chart types, arrangement of the charts, dropdown controls, text boxes) are incorporated in a correction loop.
The most important features of DataLion Software
? Users, Roles, Access Profiles
Different types of profile users in DataLion software such as viewers, editors, administrators
Setting up of access profiles with certain variables, preset filters and features
? Data Management and Automation
Import of CSV and SPSS files
Time-controlled data import
Automatic generation of tables and charts
Connection of survey software for automated data import
Cleaning directly in DataLion
Data transformation: recoding and calculation of variables
Weightings
Different bases per question or per expression
Static and calculated benchmarks
Chi-square significance tests in tables
Cross tabulation
Connection of databases such as MySQL and Exasol
? Chart Types (Excerpt)
Bar chart, Pie chart, Donut
Stacked beams and pillars
Polarities, Word Cloud, Card
Price sensitivity diagram, Heat Maps
Time series with dynamic or automatic selection of scaling
Tables with nested column heads and various metrics and formats for each column or row
Text boxes with WYSIWYG editor and direct entry of HTML
? Safety
Server locations in Nuremberg and Falkenstein; IT security certified according to ISO 27001
Cloud connection via AWS and Microsoft or hosting on-premise is also possible
? Support
Onboarding by DataLion Success Team
Access to help center with documentation, howtos and forum
Ticket system and live chat
⚙️ Usability and Design
Export as editable PowerPoint, Excel, PDF, JPG, PNG, SVG and raw data as CSV
Adaptation of chart legends, colors, axes
Definition of missing values
Chart filters, dashboard filters with filter editor, interactive filter dropdowns, filter breaks
Static charts that do not or only react to selected filters
Weighted or unweighted case numbers; with or without missing values; Total number of cases; the number of cases per variable or column, hiding and marking of characteristics according to the minimum number of cases
Displaying and exporting data on individual case level or open mentions
Saving charts and settings as favorites
Displaying images and videos in the dashboard
Drill-down function
Drag & drop editing of dashboards
Export of volumes of Excel tables with nested pre-filters or column headers and different metrics, bases and case numbers
space
You Can Also Register To Test DataLion Free Demo Now: