The DataLion Executive Suite™

High-quality business dashboards play an important role in business data strategy. Take advantage of DataLion team with decades of experience in marketing & market research, media and BI in your business analysis.
Do you know that too?
You want a quick and transparent overview of your most important key figures – at the push of a button! But often that is exactly the problem!
Different contact persons, data sources and tools cost a lot of time and nerves!
The DataLion Executive Suite ™ is our developed solution for this, an innovative product for manufacturers and retailers in the consumer goods industry.
What exactly is the DataLion Executive Suite ™?
Ready-made high-quality dashboards in the areas of sales, marketing and finance for business analysis. The product is available to you in a user-friendly web-based platform with your data.
Who is the DataLion Executive Suite ™ for?
Top decision-makers in industry and trade use them to automatically and error-free have full transparency about their business indicators.
What are the advantages of the DataLion Executive Suite ™?
You can spend more time interpreting data than processing data, tables and charts, which is time-consuming and error-prone.
Why DataLion?
We are a leading German provider in the field of dashboards & intelligence and enjoy the trust of several top companies in the consumer goods and media industry.
Interested? Then let's get in touch!
I want to try the DataLion Executive Suite™
FAQs
How does the DataLion Executive Suite ™ work?
You define the data to be analyzed (sell-in, sell-out, retail panels, extranet, flyer tracking, etc.), the desired output (scope, design) and the frequency of the updates.
Your data will then be integrated into the software and the system will reliably provide you with clearly structured and error-free dashboards on all devices – completely automatically!
Which business dashboards reports for business analysis does the DataLion Executive Suite ™ contain?
Ready-made marketing & sales reports, business analysis dashboards are available (including market shares, sell-in tracking, sell-in / sell-out, media spending, KPI cockpit, promotion, handout tracking, innovations). The pool of solutions is continuously being expanded – tailor-made if required!
How difficult is the software? Do you need training?
No. Our solutions are simple, clear and user-based. The business analysis dashboards software is ready-to-use, web-based and fully responsively on all devices – whether computers or smartphones. However, you receive support and training according to your needs.
Which data can be processed in the DataLion Executive Suite ™?
In principle, there are no restrictions with regard to the data sources (e.g. sell-in, sell-out, extranet, internal data, tracking). The DataLion Executive Suite ™ requires that you use your own data or data licensed by your company, which is then analyzed and processed in the software.
Can the data from the DataLion Executive Suite ™ be exported to other programs?
The versatility of the DataLion Executive Suite ™ is another plus point. Of course, our tool has several interfaces to common user software, including a real data export to PowerPoint and Excel for further processing, including full use of the functionalities.
Preview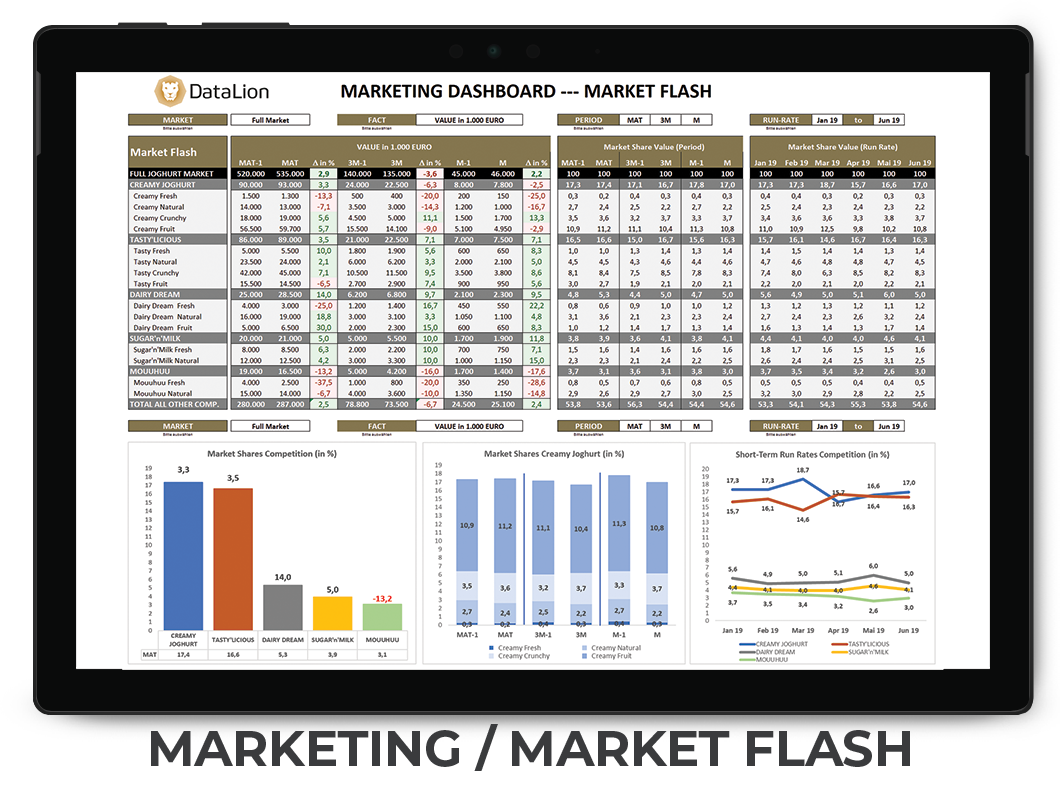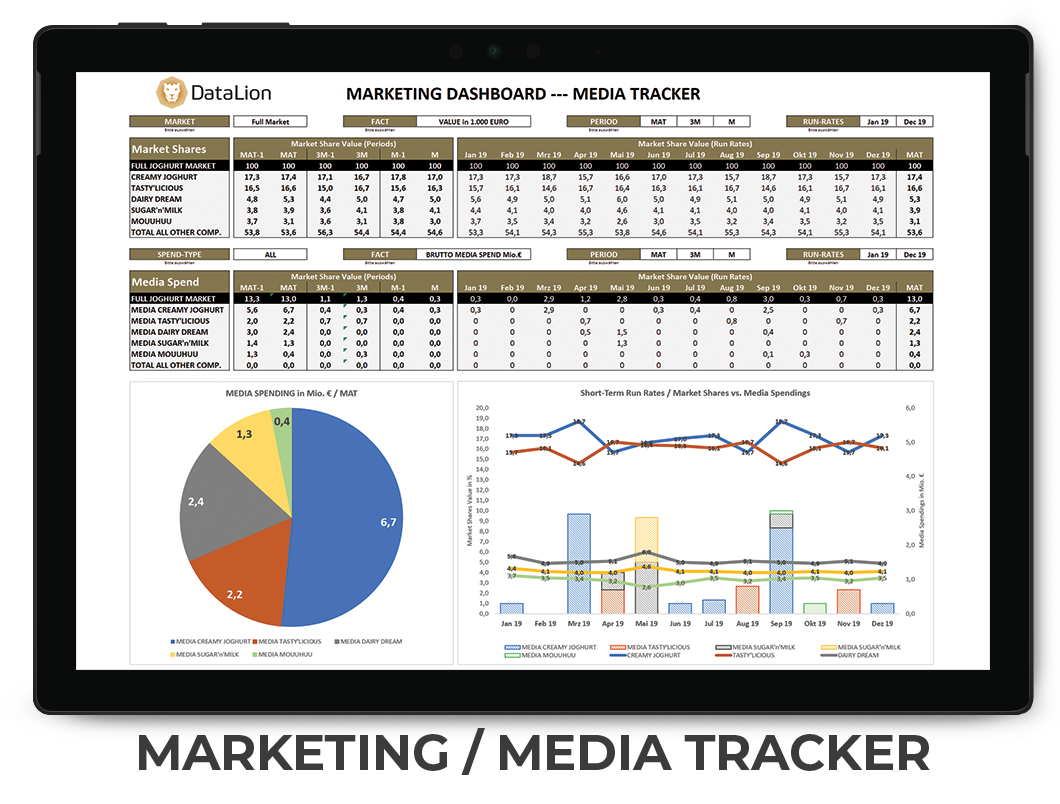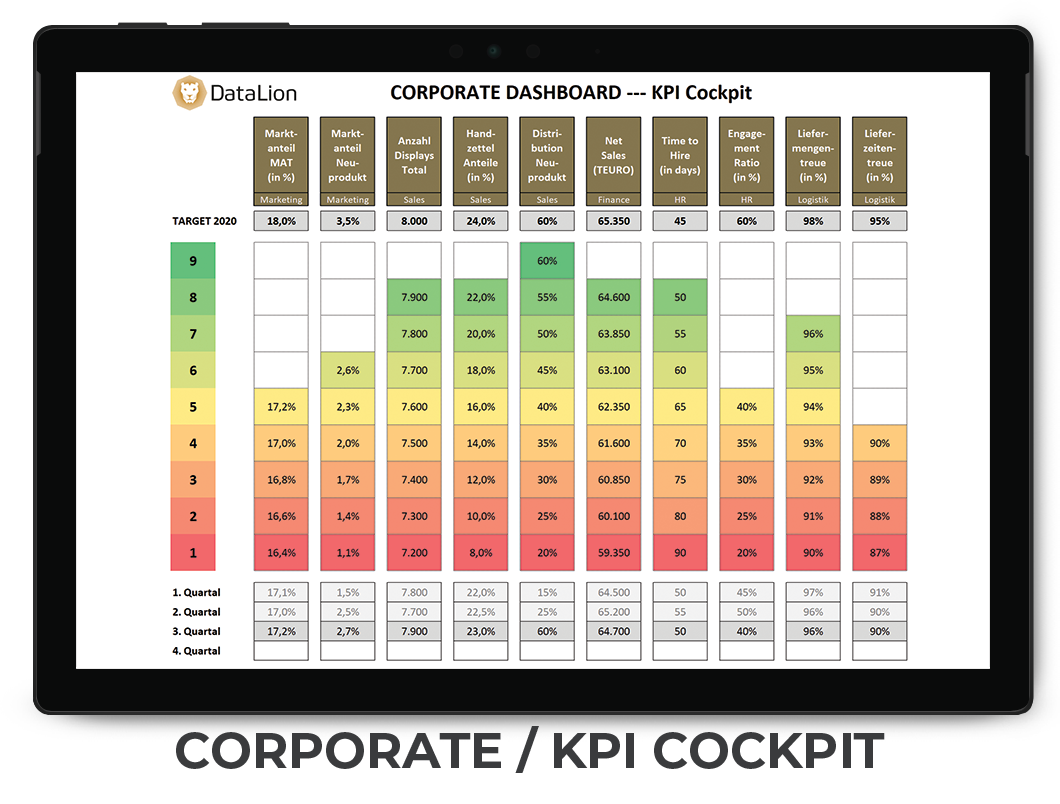 I would like to test the DataLion Executive Suite ™ business dashboards for Free: