Dashboards for Market research:
Professional analysis. Convincing visualization.
Developed by market researchers for market researchers.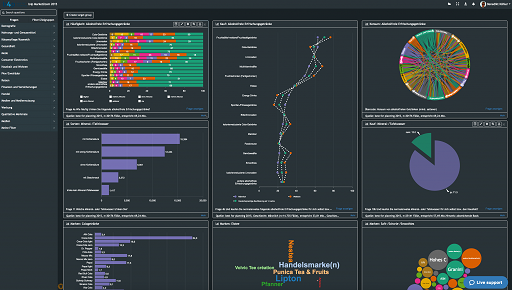 Dashboards and visualization for market research in companies
Our Dashboard software most important features
Simplest operation/Easy-to-use Dashboards

To get started with DataLion, you don't need to roll through manuals. Creating dashboards is easy with drag and drop. It takes just a few minutes to create meaningful dashboards – almost by itself.

Real PowerPoint export, efficient data visualization

All reports and dashboards in DataLion Dashboard software can be exported with one click as PowerPoint with any number of slides. Unlike many other tools, the charts are inserted as real PowerPoint diagrams. Because you can use your own PowerPoint master in DataLion, you have full control over layout and design.

Individual design, Customized visualization

Fully customize your dashboards to fit your design preferences or the corporate identity of your customers. Because DataLion is based on modern, responsive Web technology, you can customize all elements with stylesheets.

Countless data formats

Your data is available as SPSS, CSV, ASCII or as a binary file? No problem. DataLion can import all common formats of survey and survey data and connect to the usual databases. For all other formats, we are happy to create individual import routines.

Automatic refresh, real-time data

Once created, reports update themselves as new data becomes available. Continuous tracking studies can also be automatically imported and updated, including variable recoding.
Test DataLion Dashboard software now with a free demo: