DataLion is exciting to join the two events of DMEXCO & DIGITALX to join the discussions with other businesses in Europe about business analytics, digital business, marketing, and innovation this September. We are fascinated to share with all Data-fan some great insights which are sharing during the events.
Dmexco – Digital Marketing Exposition & Conference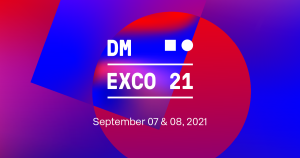 DMEXCO is Europe's leading digital marketing & tech event. They bring together industry leaders, marketing and media professionals, and tech pioneers to set the digital agenda. Both globally informed and locally focused, DMEXCO offers an ecosystem with seminars, debates, expositions, and masterclasses outlining the future of the digital economy and driving market value. In Cologne, DMEXCO set the benchmark as a network and business platform for the digital economy, business analytics. Decision-makers continue to educate themselves and are inspired, make contacts and conclude deals. DMEXCO is the place where the digital business of tomorrow can be experienced today.
This year, DMEXCO takes place purely digitally on September 07 and 08, 2021. Experience networking, exchange and business from anywhere in the world via the digital event platform DMEXCO @home!.
We are exciting to share with you about some great topics that cover in DMEXCO 21:
E-commerce in times of Corona:
Speakers: Jenny Gruner, Ines Imdahl, Bożena Nawara-Borek, Eva Reitenbach, Jeannette Rohwer-Kahlmann, Monika Schulze
Is E-commerce really one of the winners of the Corona crisis effects? Since growing branches in e-commerce do not differ much from the general succeeding branches during covid 19 pandemic – eg. grocery and alcohol – it is worth taking a closer look at what really drives the business and what are the main builds and barriers in the different branches – now and in future. 5 female leaders and top experts in e-commerce business from logistics, insurance and consumer goods will discuss their learnings and experiences around e-commerce.
How to adapt your marketing to iOS 15 – MAPP:
An overview of the changes that Apple are making to allow their users to have more control over their privacy, and how this affects you as a marketer. MAPP team will discuss some approaches that enable thoughtful and relevant marketing that respects the privacy of the user and will cover changes you can make in Mapp Cloud to adapt.
B2B marketing as we know it is over – IBM:
The pandemic invoked a huge shift in the way we market and we will never go back to the way things were. In 2021, B2B is asking more questions about its target audience: what do they care about? How are they being influenced? We're at an inflection point, where we can either continue being reactive to the challenges we are facing, or form a new path forward. The latter requires us to get rid of B2B as we know it. It's time to re-think everything and remember our No. 1 responsibility as marketers: creating relationships and adding value!
Expanding digital horizons: the benefit of search and native together – Microsoft:
Search is no longer a keyword buy, it's an audience buy, and in the drive to remain agile and relevant to target audiences, marketers are having to adapt. Microsoft Advertising research shows that users exposed to a brand's ad in both search and native are 2.6X more likely to visit the brand's website and 3.5X more likely to convert. This session will explore how and why brands should think about breaking down silos between advertising teams with case studies that prove the value of search and native performing together in this evolving digital ecosystem.
DigitalX 2021 – Digitalization – agile and innovative and live on-site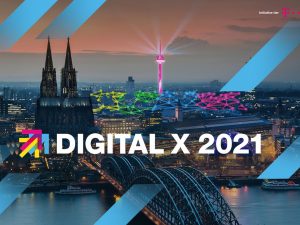 DIGITAL X 2021 in the heart of Cologne: for 48 hours, Cologne's entire city center will be transformed into the world exhibition for digitalization – agile and innovative and live on-site. Experience digitalization lives on the five stages distributed in the four quarters – with over 250 national and international top speakers. 

At four marketplaces, DIGITALX will present the latest solutions and highlights such as the Innovation Playground or the Mixed Reality World for hands-on experience. And you can also experience the latest innovations and products live in the over 100 brand houses of their partners. Silicon Alley – our start-up area – with 40 participating start-ups shows disruptive approaches to solutions for concrete challenges of small and medium-sized businesses. .